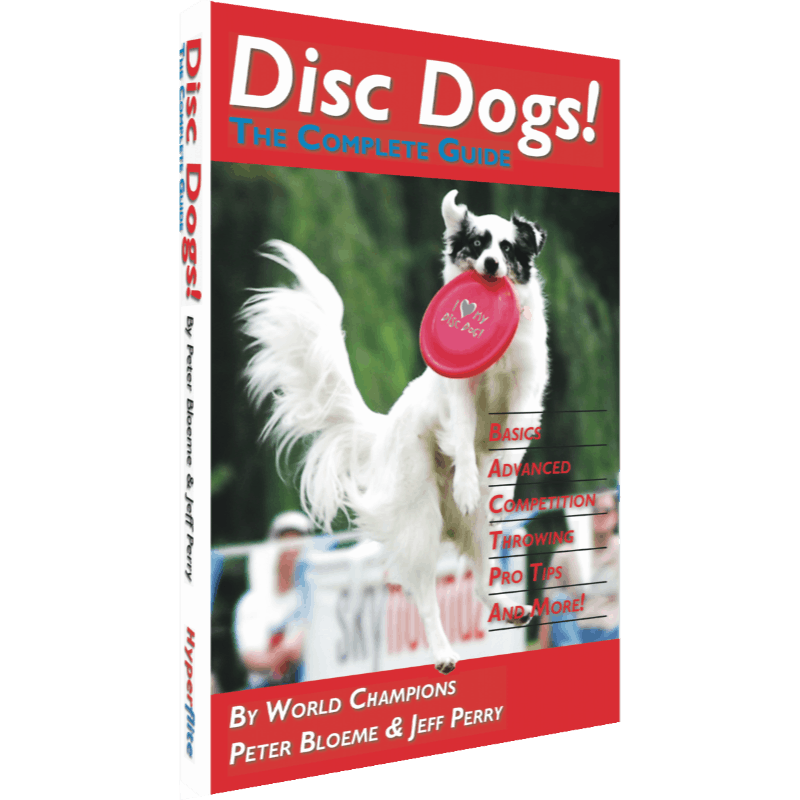 For more than two decades World Champions Peter Bloeme and Jeff Perry have taught disc-dog aficionados all over the world how to get started in the fastest growing and most exciting sport on four paws. Disc Dogs! The Complete Guide, gives disc dog enthusiasts a proper foundation in the fundamentals and then shows them how to excel in competition or at the local park.
Readers will learn to throw longer, straighter and more consistently than previously thought possible. In addition, with a style that is entertaining and informative, Bloeme and Perry trace the history and development of the sport and highlight the many competitive opportunities available for modern canine athletes.
Disc Dogs! The Complete Guide is, truly, a celebration of the most amazing canine sport on planet earth!
• Paperback (6″ x 9″)
• 358 Pages
• 500+ Color Photos
• Canine Basic Training
• Advanced Tricks
• Competition Overview
• Throwing Pointers
• Pro Tips and Web Links
• And A Lot More!
Disc Dogs! The Complete Guide can be purchased by itself for $29.95, or packaged with a Jawz disc for only $34.95 (A savings of $14.75).
Disc
Dogs! The
Complete
Guide
DiscDogs!TheCompleteGuide
DiscDogs!TheCompleteGuide
DiscDogs!TheCompleteGuide
DiscDogs!TheCompleteGuide
If disc dogging were a university course then "Disc Dogs!" would be the textbook. From initiation to graduation this book has something for everyone. Even advanced teams will find new tricks and useful tips to improve their throws and consistency. I had to run out and try a few! I particularly enjoyed the stories and photos of teams past and present. They helped to add insight into how the sport has evolved.
Finally, a step-by-step guide for anyone who wants to become involved in the sport of disc-dogging! This well-planned book is helpful not only to newbies, but also seasoned competitors. It is fun, well illustrated, and has great action shots demonstrating both throws and team movements. I would highly recommend "Disc Dogs! The Complete Guide" to anyone wanting to become involved in canine disc sports. You can bet it will become a staple for our disc dog club members and friends! Thanks, Peter and Jeff, for finally creating this much needed resource!
The first time the book touched my hands there was no reading involved, it was front-to-back just enjoying the images alone. High speed action photography is not a simple matter, yet this book is loaded with a very nice collection of images. Couple that with the authors' talent for communicating their experience and knowledge and you end up with a disc dog book that is in a league all by itself. It's another standing ovation for Peter Bloeme and Jeff Perry.
Whether you're a seasoned competitor or just beginning your own fascinating journey in disc dog sports, you will enjoy and benefit from the information you find in these pages. If this book had been available when I started tossing plastic to my dogs, it would not have taken eight years to qualify for my first World Championship and it may not have taken another nine years after that to finally win a World Championship!
Bloeme and Perry bring an amazing amount of experience to this project. They've done it all, with a combined total of more than 50 years of experience including both human and canine disc sports. In that time, they have travelled throughout the world, competing, teaching, and promoting canine disc sports. "Disc Dogs! The Complete Guide" is a must for anyone interested in the sport, from those just starting out to those who are preparing for championship play.
I found "Disc Dogs! The Complete Guide" to be "E2," both educational and entertaining. I particulary enjyed the history section and the endearing "Gravy" stories that only served to confirm what I already new — that disc doggers are the salt of the earth.
In few and sweeter words, the book was "pure joy!"