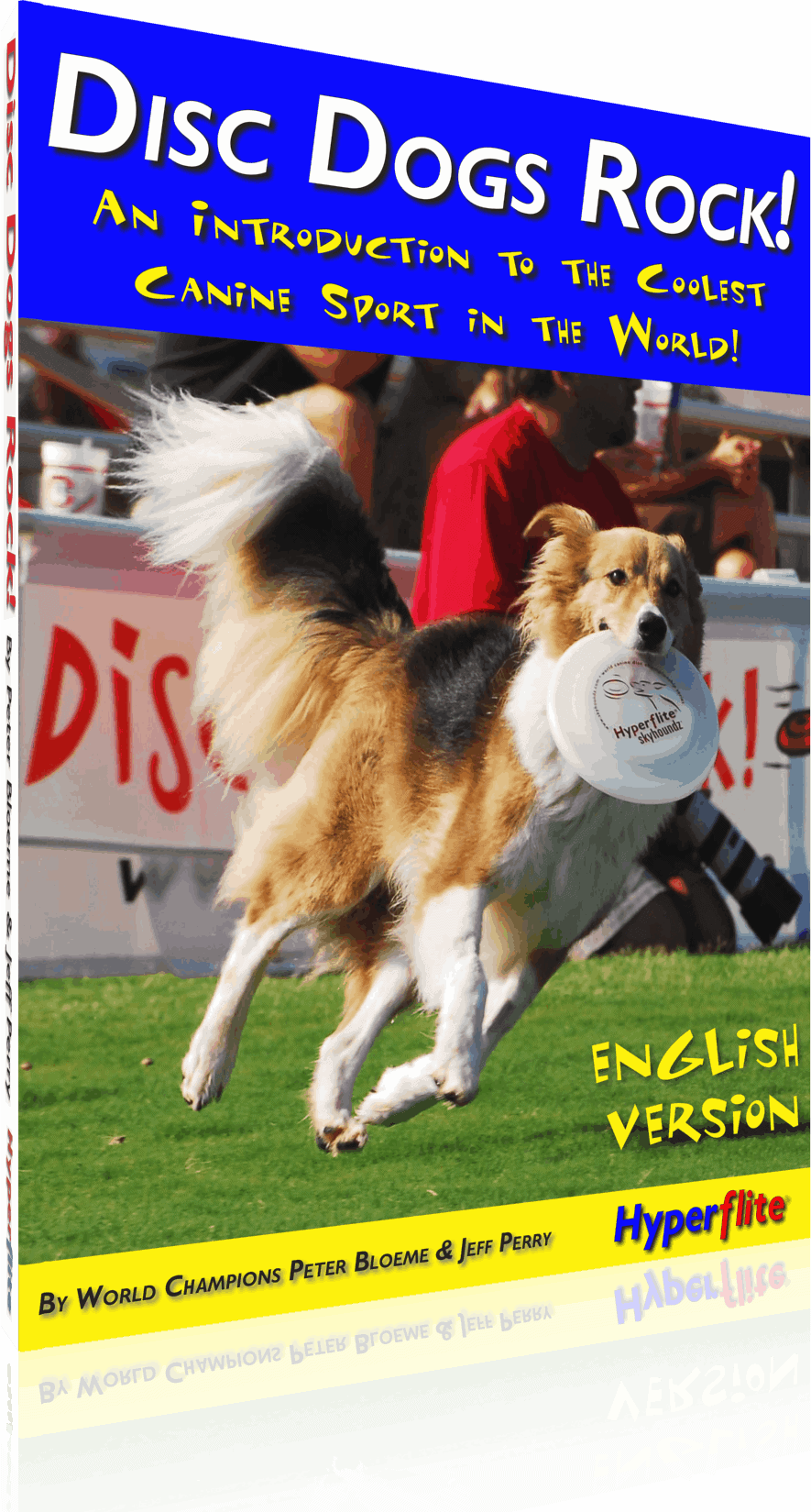 It has always been Hyperflite's mission to promote the sport of disc dog nationally and internationally to encourage dog enthusiasts to participate in the sport (recreationally and/or competitively). As such we created Disc Dogs Rocks!, a free introductory book, to get people started in the sport.
Since we introduced Disc Dogs Rocks!, it has taken on a life of its own. It's now available in seven languages: English, German, Hungarian, Dutch, Japanese, Korean, and Spanish.
We are grateful for those in the disc dog community who have volunteered their time and efforts to make Disc Dogs Rock! available to enthusiasts in their languages.
If you would like to support our efforts and bring the sport to your disc dog community, please contact us and we will supply you with the master file for translation.
Hyperflite
660 Hembree Pkwy, Ste 110
Roswell, Georgia 30076
770-751-3882
customerservice@hyperflite.com
The
Disc
Dogs
Rock!
Project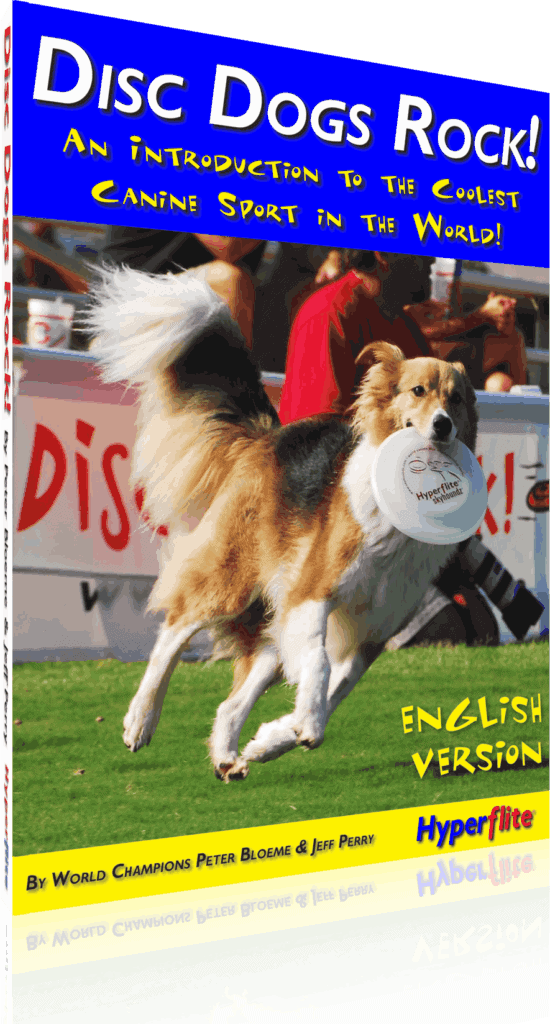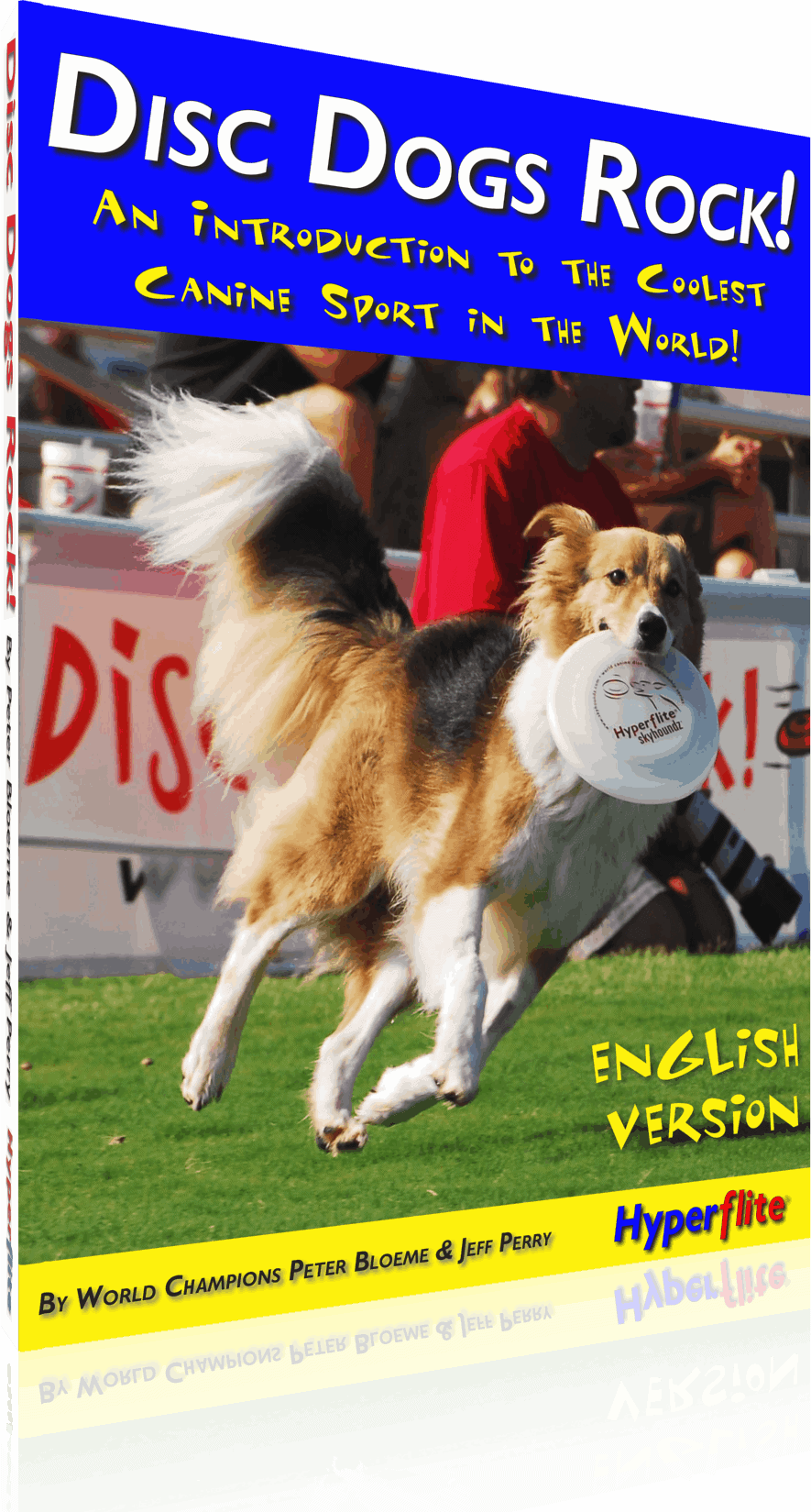 Hyperflite, maker of state-of-the-art flying discs for dogs, announces the availability of a free digital book for dog lovers. Whether you call them disc dogs, disc canines, or Frisbee dogs, this full-color publication, entitled Disc Dogs Rock!, has everything you need to get started in the coolest canine sport on planet earth. Disc Dogs Rock! is loaded with the information you need to take your relationship with your pet to the next level.
Disc Dogs Rock! features 40 pages of tips, training methods, illustrations, and photographs courtesy of the foremost authorities on disc dog sports — World Champions Peter Bloeme and Jeff Perry. Any dog can learn to catch a flying disc and there is no better exercise for your canine. Whether you want to enter the exciting world of canine competition, or just have fun with your canine in the backyard or at a nearby park, getting started is just a few mouse clicks away.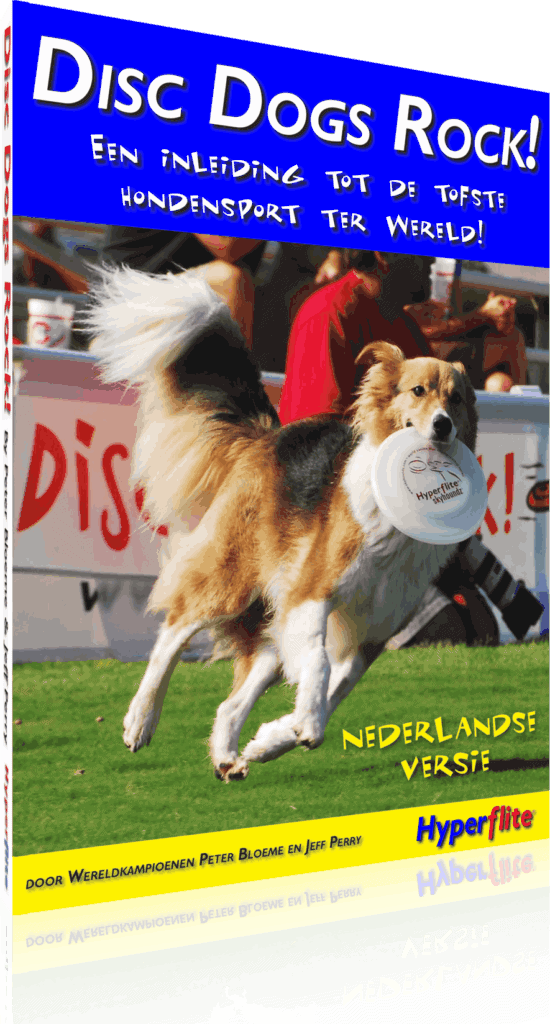 Elke hond kan leren hoe hij zo'n schijf uit de lucht moet vangen en voor honden met een overschot aan energie is er geen betere oplossing. Of je nu geïnteresseerd bent in de spannende wereld van de competitiesport, of je wil gewoon wat pret beleven met je hond in de tuin, het is nog nooit zo eenvoudig geweest om er mee te starten.
Disc Dogs Rock!, u aangeboden door Hyperflite, werd met veel toewijding samengesteld door twee mensen die een autoriteit zijn in de hondensport – Wereldkampioenen Peter Bloeme en Jeff Perry. Behalve een uitgebreid deel met trainingsinformatie, kan je in Disc Dogs Rock! ook afdwalen bij de talrijke kleurenfoto's van voormalige tophonden in volle actie! Het komt erop neer dat je alles te weten komt wat nodig is om met de tofste hondensport ter wereld te beginnen.
Hoewel het ondertussen meer dan 35 jaar geleden is sinds het eerste HondenFrisbee® Wereldkampioenschap, is deze sport populairder dan ooit. Wanneer je graag de relatie met je viervoeter naar een volgend niveau wil brengen, dan heb je aan Disc Dogs Rock! een goede hulp.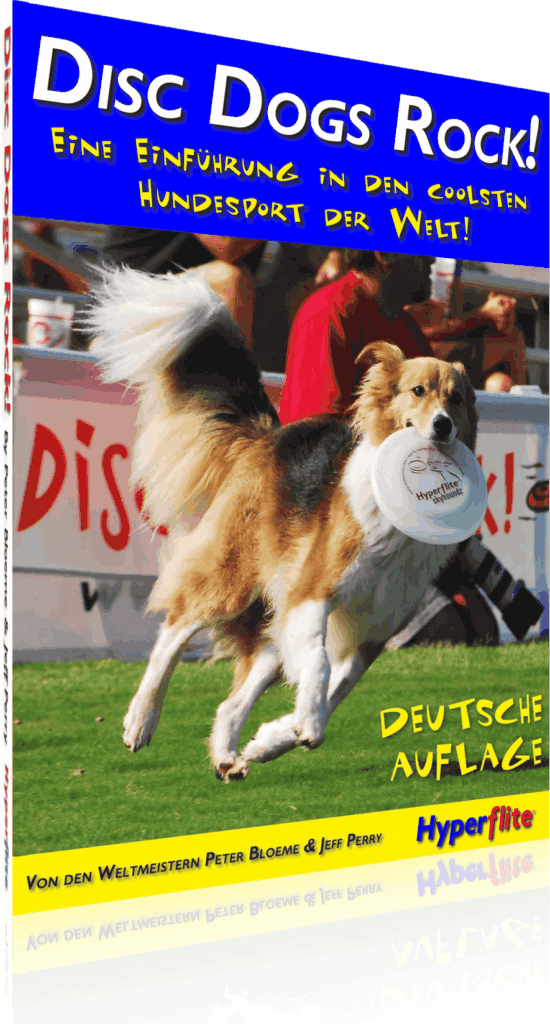 Jeder Hund kann lernen, eine fliegende Frisbee® zu fangen und es gibt keine bessere Übung für einen triebstarken Hund. Ob Sie in die spannende Welt der Hunde-Frisbee®-Wettbewerbe eintauschen, oder einfach nur Spaß mit Ihrem Hund im Garten haben möchten, der Einstieg war noch nie einfacher.
Hyperflite bringt den Sport näher mit Disc Dogs Rock! Dieses Werk wurde liebevoll von den führenden Autoritäten im Disc Dog Sport, Weltmeister Peter Bloeme und Jeff Perry, geschaffen. Neben einer Fülle von Informationen zu Schulungen, gibt es in Disc Dogs Rock! eine Vielzahl von Farbfotos der hündischen Weltmeister, wie sie hoch fliegen und hart zuschnappen! In der Tat, du findest alles, was du brauchst, um mit dem coolsten Hundesport auf dem Planeten Erde zu beginnen.
Obwohl bereits mehr als 35 Jahre seit der ersten Hunde-Frisbee®-Weltmeisterschaft vergangen sind, ist Hunde-Frisbee® und seine Turniere so beliebt wie nie zuvor. Wenn Du bereit bist, die Bindung zu Deinem Haustier weiter zu stärken, dann wir Dich Disc Dogs Rock! dabei unterstützen.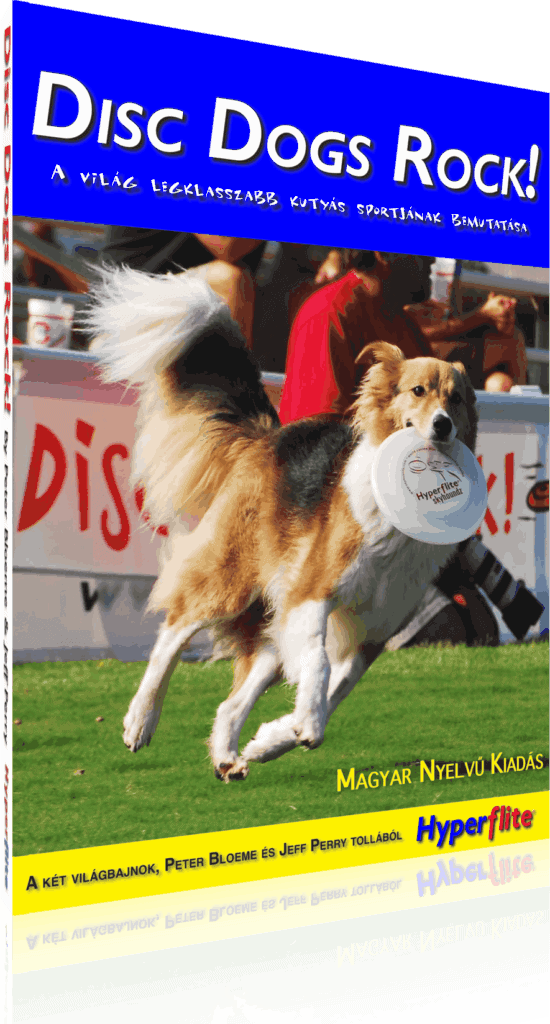 Bármely kutya meg tudja tanulni, hogyan kapjon el egy repülő korongot, és nincs is ennél jobb elfoglaltság egy energikus kutya számára. Akár szeretnél elmerülni a versenyek világában, akár csak játszani szeretnél egy jót a kutyáddal a kertben, most bátran belevághatsz.
A Hyperflite bemutatja a Disc Dogs Rock! című kiadványát, melyet a témában legilletékesebb szakemberek, a két viágbajnok, Peter Bloeme és Jeff Perry készítettek. Amellett, hogy sok hasznos kiképzési tanácsot tartalmaz, a Disc Dogs Rock! világbajnok kutyák fotóival is gyönyörködtet. Tulajdonképpen mindent megtalálsz benne, amire csak szükséged lehet, hogy belevágj a világ legmenőbb kutyás sportjába.
Bár már több, mint 35 éve annak, hogy az első kutyás Frisbee ® Világbajnokság megrendezésre került, a sportág ma népszerűbb, mint valaha. Ha készen állsz arra, hogy kedvenceddel való kapcsolatodat egy magasabb szintre emeld, a Disc Dogs Rock! kéznél lesz, hogy segítsen.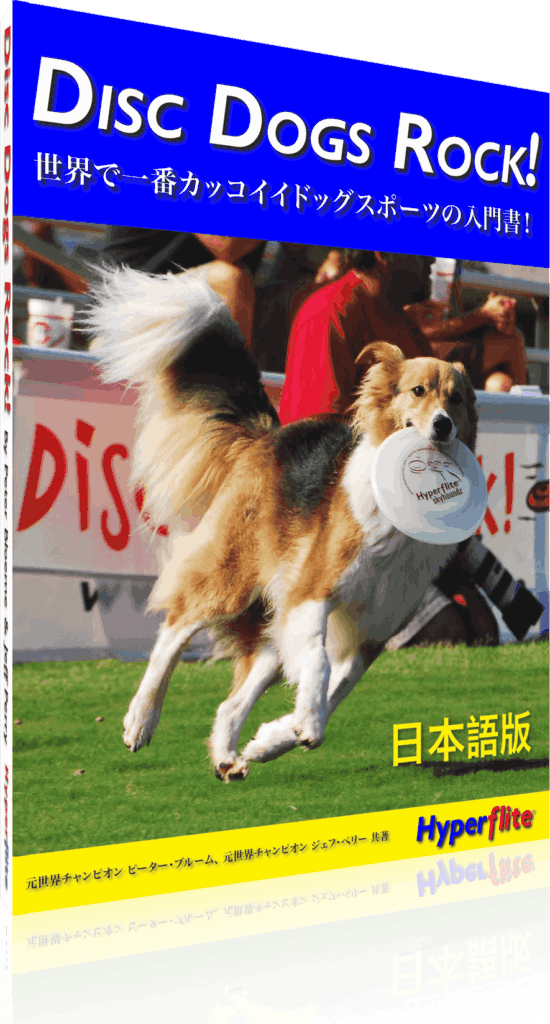 どんな犬でもディスクをキャッチする練習はできます、そしてエネルギッシュな犬にとってこれ以上の運動はありません。何事もそうですが、ディスクドッグも始める時はそれほど容易ではありません。大会に出場しワクワクドキドキする興奮の世界を体験するのが目的であろうと、ただ庭で犬と楽しむのが目的であろうと同じです。
Hyperflite から出版されている Disc Dogs Rock! は、ディスクドッグ界の第一人者 - 元世界チャンピオン ピーター・ブルーム と元世界チャンピオン ジェフ・ペリー によって愛情を込めて創作されました。 Disc Dogs Rock! には豊富なトレーニング情報に加えて、歴代の世界チャンピオン犬が高く跳んだり、ディスクに激しくかみついている様々なカラー写真が満載です!実際に、この地球上で一番カッコイイドッグスポーツを始める時に必要な事が全て載っています。
第一回フリスビードッグの世界選手権大会から35年以上経過していますが、ディスクドッグとその大会が、今ほどこんなに人気があったことはありません。あなたの犬との絆を次のステップへ高めたいと思った時、 Disc Dogs Rock! がその方法を教えてくれますよ。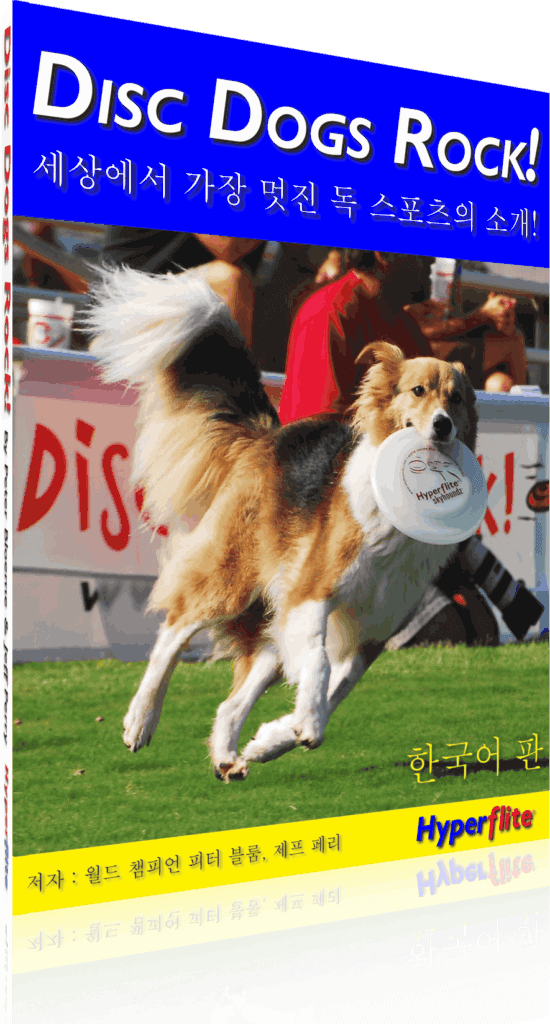 날아가는 디스크를 잡는 것은 어떤 개도 배울 수 있으며, 에너지가 많은 개를 위해서 이 보다 좋은 운동은 없습니다. 신나는 독 스포츠 경기 세계에 참여하고 싶던, 단순히 뒷뜰에서 개와 재미있게 놀고 싶던, 시작하는 것이 이렇게 쉬웠던 적은 없습니다.
Hyperflite 사가 당신에게 선사하는 Disc Dogs Rock! 은 디스크독 스포츠의 선구자인 월드 챔피언 피터 블룸과 제프 페리가 애정을 기울여 만들었습니다. 풍부한 훈련 정보와 더불어, Disc Dogs Rock! 에는 월드 챔피언 출신 개들의 활동 모습을 담은 칼라 사진들로 가득합니다. 실제로, 이 지구 위에서 가장 멋진 독 스포츠를 시작하기 위한 모든 것을 찾게 될 겁니다.
첫 번째 프리스비독 월드 챔피언십 (Frisbee® dog World Championship) 이 개최된 지 35 년이 넘었지만, 독 스포츠와 경기는 지금보다 더 인기가 있었던 때가 없었습니다. 당신과 당신 개와의 관계가 다음 단계로 넘어갈 준비가 되었다면, Disc Dogs Rock! 은 그것을 성취시켜 줄 것입니다.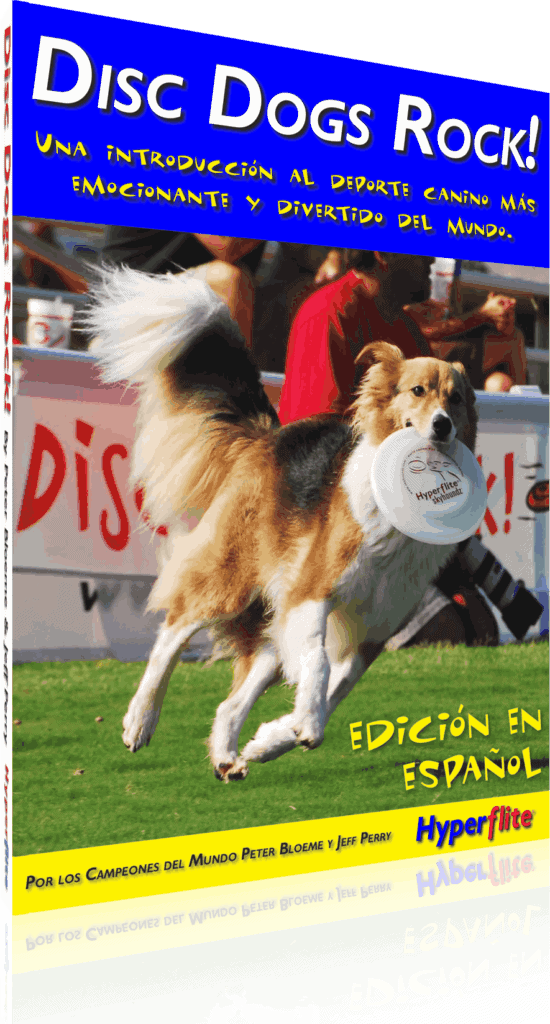 Cualquier perro puede aprender a atrapar un disco volador, y a su vez no existe mejor ejercicio para un perro energético que practicar disc dog. Ya sea que usted quiera entrar en el excitante mundo de las competencias caninas, o simplemente desee divertirse con su perro en el jardín de su casa, comenzar nunca ha sido tan fácil.
Presentado por Hyperflite, Disc Dogs Rock! fue creado especialmente para Apple's eBooks en formato de texto interactivo por los principales exponentes del disc dog: los campeones del mundo Peter Bloeme y Jeff Perry. Además de una gran cantidad de información sobre formas de entrenamiento, Disc Dogs Rock! está repleto de imágenes a todo color e incluye también un video en HD de los perros campeones del mundo volando alto y mordiendo duro. De hecho, usted encontrará en este libro todo lo que necesita para iniciarce en el deporte canino más emocionante y divertido sobre el planeta tierra.
Aunque han pasado 35 años desde el primer "Frisbee® dog World Championship" las competencias y los juegos caninos con discos nunca han sido tan populares como en la actulidad. Cuando usted esté listo para llevar la relación con su mascota a un nivel mayor, Disc Dogs Rock! lo llevará hasta allí.